---
Christopher's Charalambous family story
Where do we start? Well, lets start from the beginning before Christopher Charalambous Started his Jiu jitsu Journey.
Christopher was born in Dewberry, west Yorkshire, England.
At the age of around 4 years old, Christopher's family moved to Sheffield, England on a new business adventure.
Christopher's farther & uncles, Costa Charalambous, Cliff Philippou & Michael Philippou opened one of Sheffield's most famous restaurants in the 1980s, The Old Coach House, on the Wicker, Sheffield.
In the Late 80's, The Wicker started to change & all three family members decided it was the right time to sell.
Cliff Philippou is now the owner of Rush bar, Mansfield, & Lexis, Mansfield.
Michael Philippou is the proud owner of one of the most successful restaurants in Yorkshire, The Venus Restaurant, Dinnington.
They serve the best Sunday lunch around Yorkshire.
Christopher's Father, Costa Charalambous move to Chesterfield, to opening one of the most successful Fish & Chips takeaway in Chesterfield, Derbyshire, North Sea Fish Bar on Whittington Moor.
Unfortunately, Costa Charalambous past away five years ago and is buried at the Brimington cemetery, Chesterfield.
---
Christopher starts training in Matlock
On to how Valente Brothers based Jiu jitsu, Chesterfield started.
The last ten years for Christopher have been a very educational experience & has changed his life.
Before Jiu jitsu, Christopher Charalambous was more into body building and had more of a boyish type attitude, he would watch a lot of UFC (Ultimate Fighting Championship) he was more aggressive in personality.
In january 2009, Christopher Charalambous joined Jesters, taking Jiu jitsu classes in Matlock on Dale Road.
Every Monday at 6pm a Brown belt instructor called Tim would teach the class, (they had a class on Friday but Christopher couldn't make it)
Tim was a Brown belt under Royce Gracie, Tim was Royce Gracie's highest ranked student in the United Kingdom at the time.
Tim was a really nice guy and he is also highly ranked in Judo too.
Christopher felt that he was learning good Grappling skills and good throwing skills but self-defence lacking, also the history and philosophy was never taught.
What I saw Royce Gracie do in UFC 1,2,3 & 4 didn't truly match up, techniques were missing. As far as I know Tim is no longer associated with Royce Gracie, but I could be wrong.
Christopher was working over 40 hours a week and very unsociable hours at that.
He looked to add more training to the little spear time he had, so he found another school that taught after Tim's class on Monday in Dronfield, Derbyshire.
Chris would train in Matlock at Jesters for 1 hour, then drive to Dronfield to train for 2 hours 8pm till 10pm.
Christopher uses the internet to do his research
After some thought, and not receiving the answers he was searching for, Christopher Charalambous looked deeper into jiu jitsu and its origins.
Its easy to find information these days due to the internet and that brought him to Valente Brothers in Miami, Florida.
After a month of research he decided that Valente Brothers were the ones to train with, as they are Black belt Professors under Grand Master Helio Gracie.
On this exact date, April 25th 2010, Christopher made his way over to Miami to learn from the Valente Brothers school of Jiu jitsu and what a experience it was.
Travelling to Miami to train with the Valente Brothers
On Monday April 26th, Christopher walked into Valente Brothers Jiu jitsu Academy in north Miami beach.
Christopher trained Monday to Saturday taking over 80 classes in one month, learning Throwing skills, Grappling, Striking, Self-Defence & Philosophy (Now known as the 753 Code).
Christopher was overwhelmed with techniques feeling like he was in Jiu jitsu Heaven, a truly unforgettable time but this was just the beginning.
On the last day of training after Christopher pleaded to Gui Valente that he had been training over a year and a half in England, Christopher Charalambous asked Gui Valente if it would be possible to promote him to Blue Belt, Gui never responded.
As Christopher was saying good by to new friends in the changing rooms at Valente brothers Jiu jitsu, Joaquim Valente comes into the changing rooms and tells him to come into the back room as he wants to put me in a Gracie Challenge Fight, the opponent is on his way.
Christopher enters the private room and out of nowhere, a man with a balaclava runs at Christopher and they grapple, Christopher takes the mans back and chokes him until he taps, as Christopher looks up, Pedro Valente is standing in-front of him with a blue belt and the rest is history.
Once Christopher came home to Chesterfield, United Kingdom, things were never the same, Christopher stopped training in Dronfield but continued with Tim in Matlock at Jesters.
after seeing the way Pedro Valenteand others dedicated themselves to healthy eating and a healthy lifestyle in general, that would be his next journey before heading back to Miami in 2011.
Christopher & The Gracie Diet
Christopher herd about a special way of eating known as the Gracie Diet, again Christopher looked to the internet for information finding a website called Gracie seminars.com.
This website at the time had all the information Christopher needed to educate himself on the Gracie Diet, but found it hard to learn so he gave up on the idea.
It wasn't until after his second trip at Valente Brothers Jiu jitsu in Miami that he decided to try again and it was a success.
Eating 3 times a day, two large juices morning and night and one cooked meal with a veggie juice in the afternoon, no snacks, Christopher changed his diet and is still using this way of eating to this day.
Christopher started teaching in 2012 after leaving his old instructor Tim at Jesters, Matlock to find his own teaching path.
Christopher is very thankful for all he has learned from Tim and all at Jesters, Matlock.
Becoming a teacher
Being a blue belt at the time, it was extremely hard to receive any credibility from potential students, but through out all the difficulties that surrounded him, and with the help of others, he made it work and is now teaching over 30 private classes a week and 4 hours of group classes on top of the privates each week.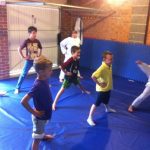 The pictures above show how we have grown due to the dedication and hard work of Christopher Charalambous.
He believed in Valente Brothers teachings and stuck by his instructors.
Loyalty to the Valente Brothers
Other instructors have criticised Christopher for staying along side the Valente Brothers and not training else where.
He can think of many reasons to stay committed to Valente Brothers, one reason is the manner of how they present themselves, they are Black belts on and off the mats.
This is the reason why Christopher Charalambous is so successful and is now about to invest in a new building in the area.
Christopher will continue to educate himself and associate himself with Valente brothers Jiu jitsu due to there knowledge of the philosophy and the techniques on the mat.
We now teaches jiu jitsu in Sheffield on Abbeydale Road.
Chris invested the last ten years training with all the Gracie Jiu Jitsu family, there is no-one in the area that can be compered to Christopher for knowledge and Philosophy.
He has rolled with Royler Gracie in a private class (Royler made short work of Christopher lol, but Royler Gracie taught Christoper some cool moves).
Sparring with Relson Gracie and listened to his funny stories was an amazing experience.
Christopher has spent endless hours in the back rooms at Valente Brothers Headquarters.
He watched and helped with private intuition, seeing many interesting techniques and hearing the history of Jiu jitsu from back in the old days in brazil.
The things Christopher has seen are priceless and he is extremely lucky.
More information about our new school will be coming soon!
---