---
The 753 code by Pedro Valente of Valente Brothers
The 753 code consists of three parts, spirit, body and mind. This is to guide you in life as you start out your Jiu jitsu journey.
Pedro Valente always speaks about why philosophy is the most important part of the five elements of Jiu jitsu.
Jiu Jitsu consists of:
striking
grappling

 

throwing Skills
self-defence
philosophy
Since 2010, I've trained at Valente Brothers, since that date Pedro Valente has alway spoken to his students about philosophy and its importance to Jiu Jitsu. Pedro's Father, Dr Pedro Valente was the one that expressed the importance of philosophy to Pedro Valente.
After Dr Pedro Valente passed away, Valente Brothers placed Dr Pedro Valente quote inside each Valente Brothers uniform, found on the tag of the Kimono.
"The secret of Jiu-Jitsu is in its philosophy" Grand Master Pedro Valente Sr 
7 = The spirit of the warrior (To guide each student of Jiu-jitsu)
5 = The body (These are the upmost important to keeping healthy)
3 = The mind (Three mind sets to master in the art of Jiu jitsu)
The Bushido code has been around along time, dating back to the Samurai, the code was used to guide the Samurai for centuries. 
The Bushido Code = The 7 
Here are a few books to read about the Samurai:
The book of five rings
Hagakure
Pedro Valente is the one that's responsible for creating the 753 Code, it's a simple way to help students remember each part.
You can join the Valente Brothers on a Friday night at 8pm, Pedro Valente always gives a speech to his student and students can ask questions.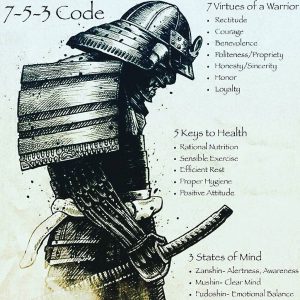 ---